Victor Wanyama – Ambassador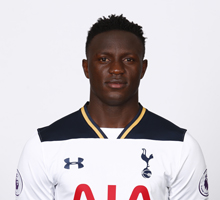 Victor is considered to be Kenya's most successful ever footballer and is currently captain of the national team. He currently plays in the Premier League as a defensive midfielder with Tottenham Hotspur, having completed a summer transfer from Southampton. Previously he had a successful stint north of the border with former European Champions, Glasgow Celtic, before moving south to join Saints in 2013. Victor has also gone down in history as the first ever Kenyan footballer to score in the UEFA Champions League whilst playing in Scotland against multiple European champions, Barcelona. He has been a tremendous role model to many both in Kenya and Africa in general.
Growing up in Nairobi, Victor has had first-hand experience of the challenges that young people in Africa face and of the many who view football as their opportunity to break away from the dire poverty they are faced with. He dedicated himself to football from an early age. At the age of 11, he played for a local team called Country Bus and, together with his team-mates, he would walk for miles in his bare feet to get to away fixtures. Growing up, Victor used Football as a distraction, it allowed him to pass his time and have a focus.
"I feel honored to be the Ambassador for the Foundation and I am really impressed with the work they have already achieved and the positive impact these efforts will have had on the various communities in the slum regions of Nairobi. Football has a way of bringing people together and gives young people a focus and strong sense of community, discipline and respect.  I am looking forward to working with the Foundation in its ongoing efforts to encourage young boys and girls in the slum areas of my home country on how through football they can gain inspiration and hope."