Founder and Chairman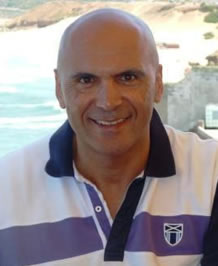 Since first kicking a ball as a 5 year old in his native Glasgow, Ricky has enjoyed a life immersed in football playing over 1,000 competitive matches in several different countries, scoring over 600 goals before retiring at age 36. Since retiring Ricky has enjoyed successful periods as a coach and a manager before most recently becoming the President of his national Football Association.
After a 6 year reign at the helm of football on his adopted island of Jersey, Ricky undertook a charitable trip to a Nairobi slum to donate used football kit. He ended up coaching over 200 kids and adults during his 10 day trip and upon his return with the desire and inspiration to do something more in the longer term. He was motivated to found the Jersey 2 Africa 4 Football Foundation, a Non Profit organisation dedicated to improving the lives of young people in Africa through football.
"During my trip in November 2012 I was both humbled and inspired by the desire and passion of the young people who turned out to play and learn, the majority of whom had no proper shoes never mind football boots and in ragged, rough conditions that could barely warrant the description as a football pitch. It became a catalyst and inspiration to use all my years' experience and contacts within football over a 40 year + period to do something more and in a small sustainable way, help to make a marginal difference in the young people's lives whom I had met and shared a common love and passion for playing football and being the best they could be despite their difficult, challenging and squalid circumstances"